Community
We love being involved in the community.
You'll often run into us at these local meetups!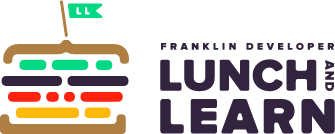 Do you like to learn? And who doesn't love lunch? This group blends these two pastimes with engaging talks about web and mobile development. Join this group once a month to grab a bite to eat and grow together with like-minded professionals.
This group brings together people in the Nashville area who are interested in using Ruby for software development. Anyone who shows up is welcome no matter how much experience you have. At each meeting, you'll get the opportunity to share or ask questions.
The main mission of WomenGetIT is to diversify the tech industry by connecting local IT leaders to future female technology talent. To do this, they use open dialogue and mentorship at social conferences, happy hours, lunch and learns, and more.

Nashville PHP is proud to serve the Nashville and Middle Tennessee area, bringing together a community of PHP and web developers once a month. You're welcome to join no matter your skill level.

The main goal of PyNash is to promote the use of the Python programming language in Middle Tennessee by sharing knowledge and nurturing a community of Python professionals and enthusiasts. Each meeting will provide useful content whether you're a novice or a professional. Every get-together follows the PyCon Code of Conduct!
If you're interested in software development using JavaScript, this group's for you!
NashReact is a user group that meets monthly in Nashville and covers topics including React.js, Flux and React Native.